Are you and your special someone looking for a quick getaway? Look no further than the picturesque Waterloo Region. You'll find the perfect blend of culinary wonders and scenic beauty that will surely captivate your hearts!
Your Explore Waterloo Region Adventure
Before embarking on your culinary journey in Waterloo Region, it's essential to secure your Explore Waterloo Region Great Taste of Ontario Passport. This passport is your key to unlocking exclusive experiences and delightful surprises as you explore the vibrant food scene together.
By visiting 3 of the stops featured on the passport, you'll receive a $25 Feast On® voucher to use at participating Feast On® certified restaurants and businesses.
Where to Stay: The Laundry Rooms
Where: 5 Wellington St S, Kitchener, ON. (View Map) or 181 King St S, Waterloo, ON. (View Map)
No romantic getaway is complete without staying at your home away from home! While this is a day trip, we can't stress enough that staying the night and exploring more of Waterloo Region the next day is your best bet.
We recommend you secure a stay in the Laundry Rooms. This alternative to traditional hotels and random rentals is the perfect place for couples who love the sense of being in the city.
Plus, there are some uber fun amenities waiting for you like a 2-lane bowling alley and indoor swimming pool at the Kitchener location or a rooftop pool and fitness center at the Waterloo location.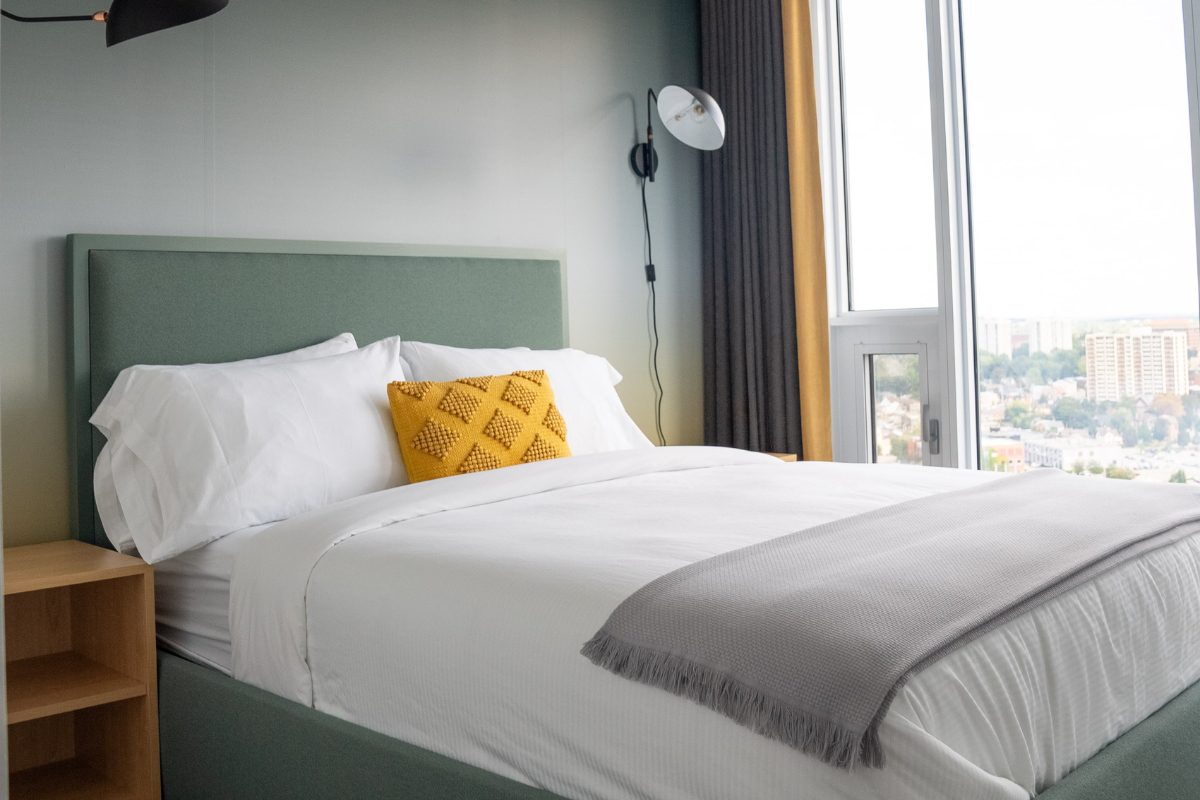 We found these accommodations truly unique, and welcoming! Taking a little work-cation or hush trip? The Laundry Rooms would be the the perfect spot for that getaway too AND they're pet-friendly.
Now that you have all checked into your accommodations let's hit the road to get a taste of Kitchener-Waterloo! Start your morning off with a stroll through town or follow our cues and grab some coffee.
Time to next stop: 17-minute walk or 5-minute drive from Kitchener Laundry Rooms or 10-minute drive from the Waterloo location.
Get Your Coffee Fix at Lucero Canteen
Where: Lucero Canteen, 22 Ontario St N, Kitchener, ON. (View Map)
If you and your loved one are coffee enthusiasts, Lucero Canteen is a must-visit. Enjoy a cozy coffee date and savour the rich, aromatic flavours together.
We loved trying their lattes and basking in the sun that beamed in this cozy shop. We also couldn't help but try their pastries. Our favourite was their blueberry crumble pie! With the cozy vibes of the interior and the even better coffee, this is a great way to start your day of adventure.
Time to next stop: 9-16 minute drive
Pick your own Afternoon Adventure
Where: Vincenzo's, 50 Caroline St S, Waterloo, ON. (View Map) or Downey's Apple Farm, 11355 Hopewell Creek Rd, Maryhill, ON. (View Map)
Alright, here's where things get fun! We invite you to pick your next stop. You'll choose between a global grocery store stocked with fresh foods to make you drool or a romantic apple farm begging to be explored.
VINCENZO'S
Vincenzo's is a local favourite known for its fresh and flavorful breakfast options. Share a hearty morning meal and explore the local flavours together. You and your sweetheart will have a ball wandering the aisles and finding a unique selection of foodie goods to bring home and remember your trip by.
DOWNEY'S APPLE FARM
Downey's Apple Farm is a family-run farm that couples and families alike will love. Enjoy endless amounts of time together getting lost in the corn maze, pick your own apples to enjoy later on and most romantic of all? Handpick a bouquet for your special someone. Can this get any more romantic?
Time to Next Stop: 9-minute walk from Vincenzos, 4-minute drive from Vincenzo's, 20-minute drive from Downey's
Pre-dinner drinks at Arabella Park Beer Bar
Where: 740 Belmont Ave W, Kitchener, ON. (View Map)
It's not just the cool aesthetics of this beer bar/sanctuary that will make craft beer lovers fall head over heels. It's the extensive selection of craft beers and ciders on tap that will keep you and your partner coming back for more.
Our favs? The Soif and Ostera ciders made by Revel Cider. Soif is a blend of two fermented ciders that is like a party of red fruit (think strawbs and cherries) for your taste buds. Ostara Chamomille is floral like it sounds but also has hints of juicy plums and stewed citrus- perfect for those with a refined cider palette.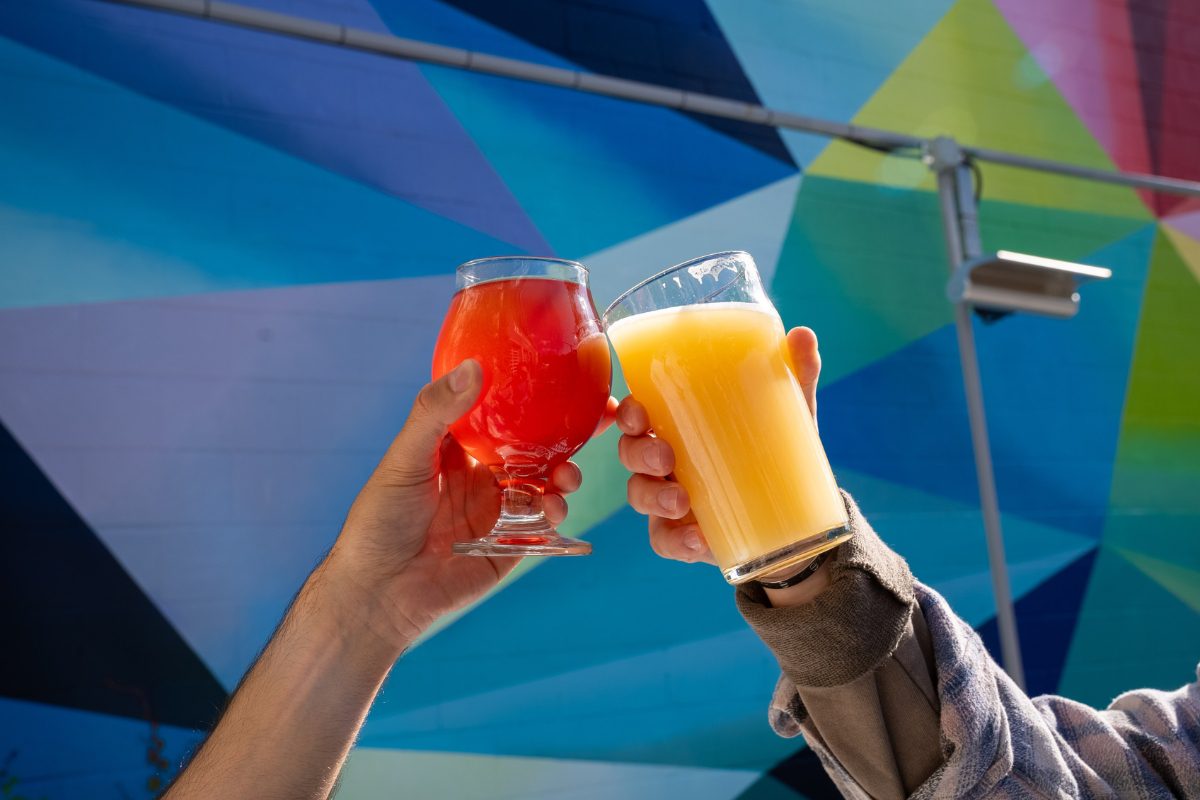 Beer more your thing? No worries! Dive headfirst into the Badlands Brewing Company's juicy Cashmere IPA. Fruit-forward, this IPA is packed with notes of peach, pineapple and more that come out with their blend of Galaxy and (of course) Cashmere hops.
Time to Next Stop: 20-minute walk or 5-minute drive
Dinner is Served at S&V Uptown
Where: 15 King St N, Waterloo, ON. (View Map)
*Don't forget to check into your Great Taste of Ontario passport!
S & V Uptown is the perfect spot for couples looking for a romantic dinner. These Feast On® certified folks don't mess around when it comes to aesthetics, every cocktail and every dish they produce is a true work of art!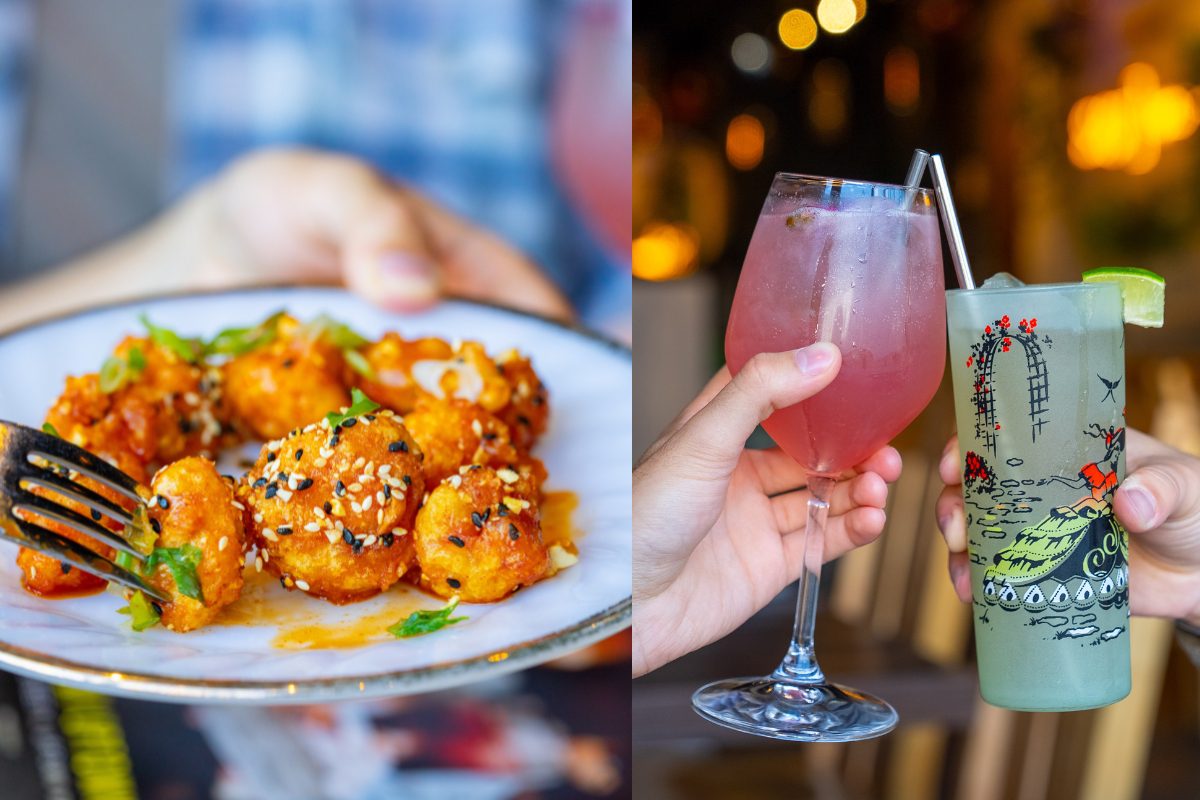 With a diverse menu and a warm ambiance, it's an excellent choice for a special evening together. Of course, we have a few favs.
We recommend you try their Wild Mushroom Risotto with truffles, aquerello and parmesan as well as their cauliflower bites. Pair that all up with a Cocchi spritz and you'll be singin'.
Time to Next Stop: 5-minute walk, 2-minute drive
Dessert for Your Sweetheart and Sweet Tooth at Four All Ice Cream
Where: 75 King St S Unit 56, Waterloo, ON. (View Map)
Indulge your sweet tooth and your sweetheart with a visit to Four All Ice Cream. Share a scoop (or two!) of artisanal ice cream as you stroll hand in hand through the charming streets of Waterloo Region.
What makes this spot so special is all in the ingredients. Founder, Ajoa, was inspired in 2003's August heatwave to purchase an ice cream machine instead of an AC unit and the rest was history!
Using exclusively Gurnsey cow milk from Eby Manor Farm and partnering with local farmers on ingredients, you can taste the difference all that fresh goodness makes.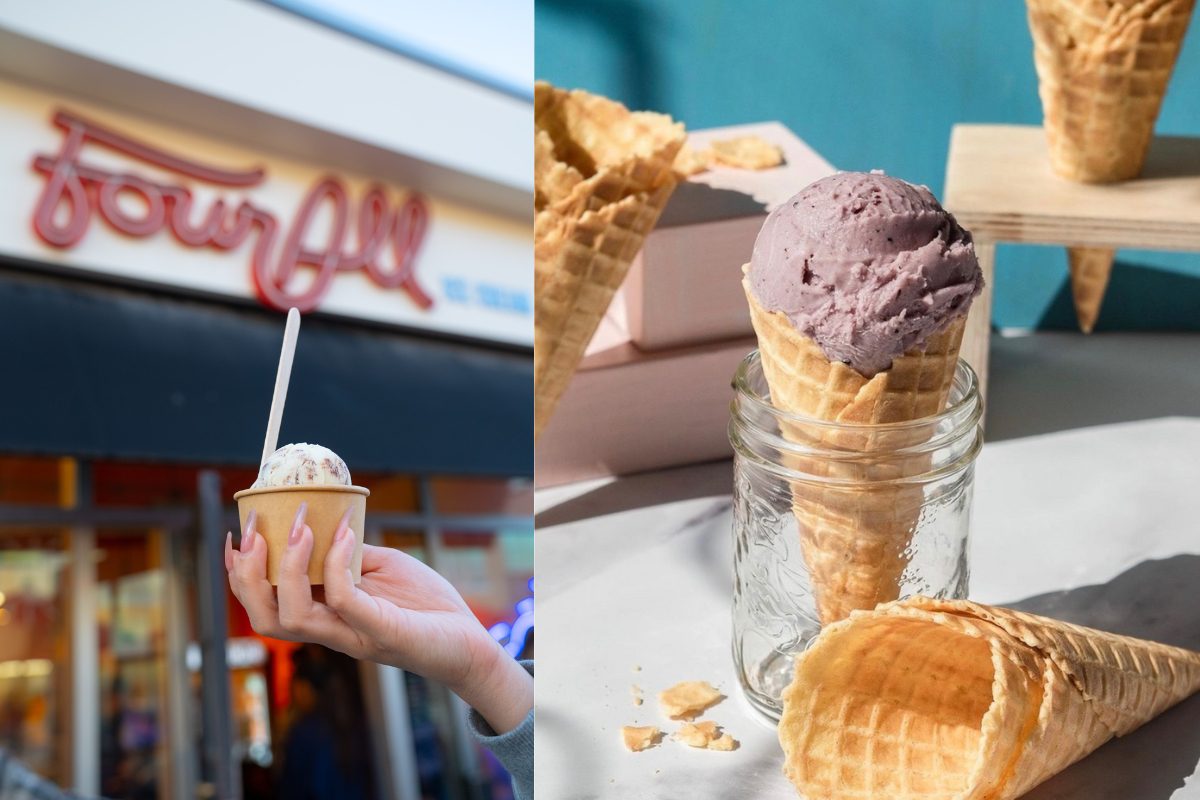 From classics like Cookies + Cream and Maple Walnut to more inventive flavours like Goose Tracks, Roasted Strawberry Rhubarb Sorbet and MadCat Espresso Chip, there's a cone or bowl for just about everyone.
BONUS: Four All Ice Cream is also on the Black Foodies Great Taste of Ontario passport so be sure to check in on that passport! 
A Romantic Getaway to Remember
Waterloo Region offers the perfect blend of culinary experiences and romantic settings for couples seeking an unforgettable getaway.
Don't forget to download your Explore Waterloo Region Great Taste of Ontario Passport, pack your bags, and embark on a culinary adventure like no other in Waterloo Region.
SEE WHAT ELSE IS HAPPENING IN WATERLOO REGION. CHECK OUT THE LOCAL BUZZ!