Welcome to Waterloo Region- a true hidden gem for craft beverage enthusiasts! Make sure to download your Explore Waterloo Great Taste Of Ontario passport, so you can unlock its treasures. All you have to do is download the passport and check into three stops. Then you'll receive a $25 Feast On® voucher right to your phone! Psst. There are two check-in spots right on this list.
DISCOVER WATERLOO'S EPIC CRAFT BEVERAGE SCENE
Whether you're with a loved one or friends, get ready for a memorable journey through the finest craft beverages in the area.
Each stop promises unique flavours and cherished moments. So, grab your passport, bring your favourite company, and let's explore craft beverage bliss in Waterloo Region!
1. Four Fathers Brewery
Where: 125 Guelph Ave, Cambridge, ON. (View Map)
*Check in on your Great Taste of Ontario passport here!

Welcome to brew heaven at Four Fathers Brewing Company! Located in Cambridge, ON., this brewery has become a cultural hub for the area, offering much more than just craft beer. From pickleball tournaments to professionally designed disc golf courses, they provide entertainment for all.
The menu at this brewery features pub fare that elevates your experience, including delicious appetizers like "Brewery Wings" and mouth-watering burgers like the Great Canadian Burger.
This bad boy is made from chuck patty, mild cheddar, peameal, Shevchenko 9 BBQ and all dressed sauce loaded onto a brioche bun. Served up with kettle chips from Craft Chippery, trust us you need this. Doesn't that make you hungry?
We of course have to say that you cannot begin to enjoy any of these creations before sipping on some beer from Fourth Fathers' on-tap offerings. Try their These Pretzels Are Making Me Thirsty  buckwheat festbier.
"Pretzels is a festbier-styled lager made with local Buckwheat Honey. It's slightly malty yet brilliantly clean and crisp. Brewed with honey, noble hops and Bavarian yeast it's a perfect beer to Fest it up."
2. Arabella Park Beer Bar
Where: 740 Belmont Ave W, Kitchener, ON. (View Map)

Arabella Park Beer Bar is a true hidden gem that will catch your eye from a mile down the road! It might even be the coolest bar around. Offering an incredible selection of on-tap magic, their space boasts incredible interiors that amplify and add a hint of sophistication to your taste buds!
We recommend you chat with your server as they are experts in offering you the best of what's on tap to suit your palette.
Our top picks include the Soif and Ostera ciders crafted by Revel Cider. Soif is a delightful blend of two fermented ciders that burst with the flavors of red fruits, reminiscent of strawberries and cherries, creating a vibrant symphony for your taste buds. On the other hand, Ostara Chamomille offers a floral profile, as the name suggests, with subtle notes of juicy plums and stewed citrus, making it an ideal choice for those with a discerning cider palate.
If you lean more towards beer, no need to worry! Take a plunge into the world of Badlands Brewing Company with their luscious Cashmere IPA. This fruit-forward IPA is brimming with hints of peach, pineapple, and more, thanks to the carefully blended Galaxy and, of course, Cashmere hops, making it a perfect choice for beer enthusiasts.
Pairing options for your brew adventure here are curated and changed every week. They embrace the motto: here today, gone tomorrow! Regardless of what they are offering, it seems they have a handle on making sure every experience is memorable.
We highly recommend you try their Fried Oyster Mushroom Sandwich made with buttermilk-marinated fried oyster mushrooms, lettuce, ranch, hot sauce, pickles, and a Martin's potato roll.
Wondering what company to best enjoy Arabella park with? There's not really a wrong answer but it is truly a great spot to meet up to meet up with some pals or to enjoy a cute little date night!
Fun Fact: Their summer patio is dog-friendly, so make sure you also bring your pup along for the adventure.
3. The Old Galt Bottle Shop
Where: 100-135 George St N. Cambridge, ON. (View Map)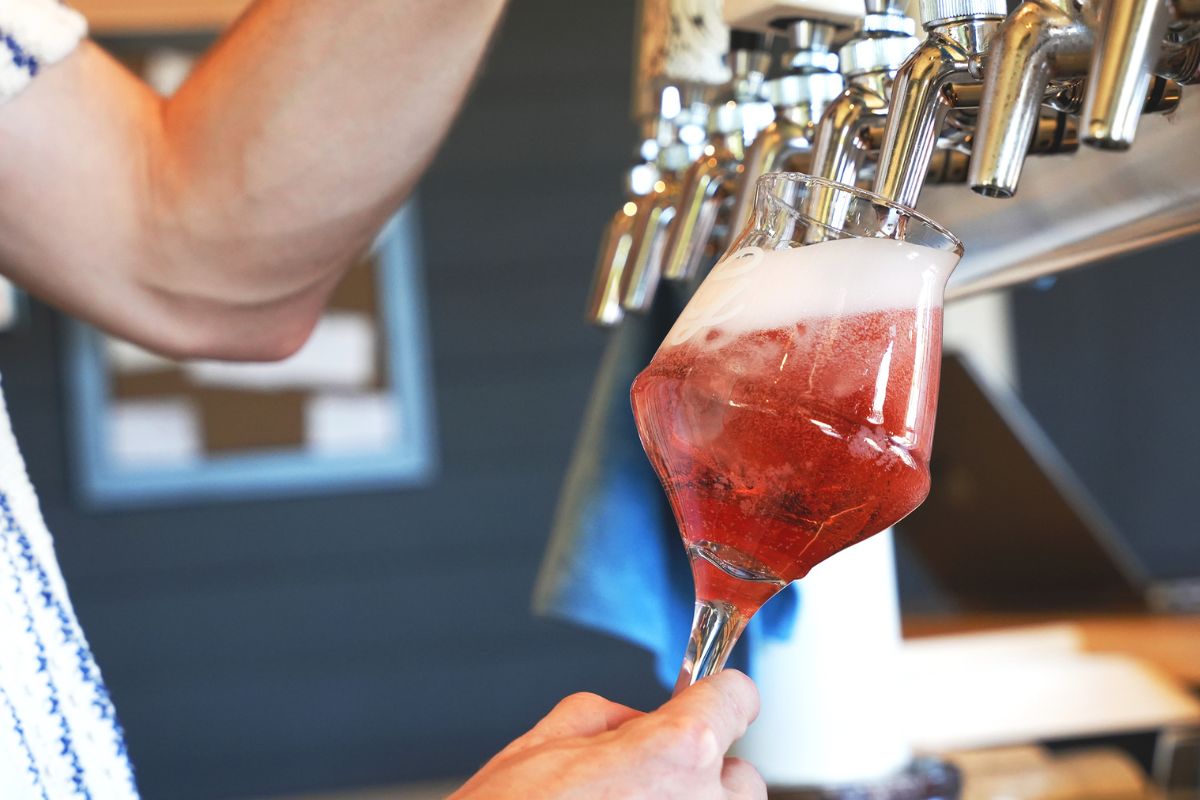 Step into The Old Galt Bottle Shop – the place to be for beer, friends and community! From light, easy, classics, hoppy and hazy, to sweet and seasonal, they've got the perfect selection to supply any brew adventurer, and it doesn't stop there! They've got cider, wine, and everything in between for you to pick up from the bottle shop!
Offering delicious breakfast on the weekend, and open for dining Wed-Sun, they're menu offers exceptional "that hit the spot" pub fare! Grab a beer and their pretzel with your choice of grainy mustard, garlic butter, or honey dill dip. Can we try them all?
Be sure to pair their appetizers with something delicious off the tap- a constantly rotating selection of beers from the likes of Junction Craft Brewery, Willibald, Wishbown Brewing and more. From stouts and sours to pilsners and red ales- you'll find something new each time you visit.
CHEERS TO YOU!
These three destinations in the Waterloo Region offer a mix of craft beverages and delectable food, making them the perfect places to spend time with friends or plan a memorable date night. Have so much fun.
SEE WHAT ELSE IS HAPPENING IN WATERLOO REGION. CHECK OUT THE LOCAL BUZZ!